Sports Chiropractic Council Bluffs
Are you or a loved one an avid athlete? If so, then you know the wear and tear of sports all too well. As common as post-game aches and pains may be, it is imperative to get into the chiropractor as soon as you are feeling any less than your best. Chiropractic care is one of the key aspects of staying healthy and getting back on the field. Bluffs Family Chiropractic is here to help you maintain your health and increase your overall sports performance.
Common Benefits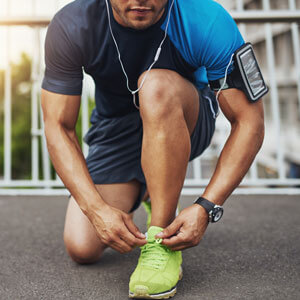 When it comes to sports, chiropractic care has many benefits:
Improves flexibility
Increases range of motion
Promotes hand-eye coordination
Reduces the risk of injury
Speeds up recovery time
Athletes of all levels are encouraged to undergo regular adjustments to prevent injuries from occurring as well as maximize performance.
Recovery Time
As every patient is different, it is difficult to know how long your recovery will take. While most athletes require four to six weeks of care, those with severe injuries may take longer. Our goal is to allow your body the appropriate amount of time to regain mobility and strength. More often than not, our patients are able to return to their chosen sport within two to three weeks.
What Our Patients Have to Say
The highest compliments we can receive are from patients who are pleased with the care they get at our practice. Please see our Reviews page to read what one patient had to say about her care for running-related knee pain.
Make Us Your Routine
Our practice recommends incorporating chiropractic care as a part of your regular training routine. Whether or not an injury is present, ongoing adjustments correct the interferences within your body that are preventing it from functioning optimally. You say the word—Bluffs Family Chiropractic will gladly become a part of your athletic journey. We want to keep you healthy!
---
Council Bluffs Sports Chiropractic Care | (712) 256-5990